Pareri Clatterans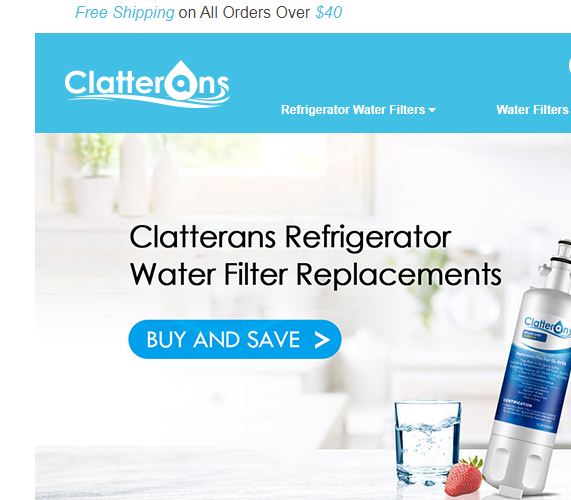 mareste imagine
Calificativ total 2.67
Poor
Nota calculata din 3 calificative
Descriere Clatterans
Clatterans is dedicated to helping families live easy and healthy. At Clatterans, you'll find everything you need to purify the water and air of your home or workplace, including refrigerator water filters, air filters, faucet filters, shower filters and varieties of practical home appliances for a hassle-free and happy life.

Our team knows that everything we do is important and can make a difference in our own lives and those of our customers. It's upon the steadfast mindset that drives us to higher levels of innovation and performance.
Healthy living and overall well-being can't be separated from a clean environment. Our sole focus is providing best-in-class water filtration products so each family can enjoy great-tasting, fresh, healthy water indoors and outdoors.
Except for water filters, Clatterans is confident of giving every family lots of support in other aspects of life by launching a series of home appliances. For example, the air purifiers are to improve air quality and help you breathe easier as they are activated to absorb household odors from pets, cooking, smoke and gases and release millions of negative ions to purify the indoor air. Other appliances, utensils and gadgets, such as air fryers, vacuum cleaners, touch faucets, hand mixers, salt guns, onion choppers and more are presented to bring great convenience to your everyday life.

---
One of the o-rings was compromised so I reached out to the company. They said your one year warranty has expired so we can't help. I would suggest staying away from this vendor. Its a product defect so why wouldn't they send me another one?? Because they don't care!