Pareri Minimizer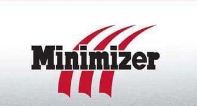 mareste imagine
Calificativ total 2.67
Poor
Nota calculata din 3 calificative
Descriere Minimizer
Minimizer is the aftermarket solution for the heavy truck industry, whether you're a driver, owner/operator, fleet manager or technician.We invented the poly fender, but didn't stop there. Innovation is the name of our game. Over the last three decades, we've released custom molded floor mats, slick plates, work benches, tool caddies and our newest products – the Long Haul Series of heavy duty truck seats and mattresses.
All of our products are available nationally thanks to our distribution system. You could be in Miami or Seattle. Doesn't matter. Thousands of distributors stock Minimizer across the US and Canada.
---
The customer service told me that within three weeks my order will be shipped to me. After three weeks, my order had not arrived. When I called to the customer service to find out when I should receive my order, they were not sure, stating it might take more than two months. Therefore, I had to cancel my order and request my payment back.