Pareri World Import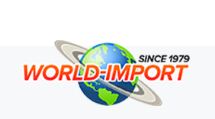 mareste imagine
Calificativ total 2.33
Poor
Nota calculata din 3 calificative
Descriere World Import
We are a wholesale and retail distributor of Multi-System 110-220 Volt Electronics. And yes, we do have a showroom / warehouse in Franklin Park near Chicago's O'Hare International Airport in Illinois. You can actually visit us to see and touch all your favorite multi-system PAL/NTSC region free products. We do not work out of a house, garage or an apartment! Many companies do this and that is why they don't write their address on their site or hide it somewhere on their site.
For this same reason, they do not have any picture of their warehouse or showroom either. In this day and age of internet fraud, we feel it is very important to make our customers feel comfortable about ordering from us. That is why we mention our address at the bottom of every webpage on our site and actually show you pictures of our showroom/warehouse.
---
They refuse to refund me even though they never delivered my parcel, it's been over seven months now. They don't even have the decency to respond to my mails anymore. I'm not sure if they ever sent a parcel, what I do know is they don't even have an active tracking number now. They refused to even tell me what their refund procedure is - I suppose for obvious reasons. Scam!